Amy Keaton
Amy began dancing at the age of three with a typical children's ballet and jazz class. In her first performance she danced the hula in a grass skirt and lei. She continued dancing for the next ten years, but as sports and dog training classes took center stage, dancing was forgotten.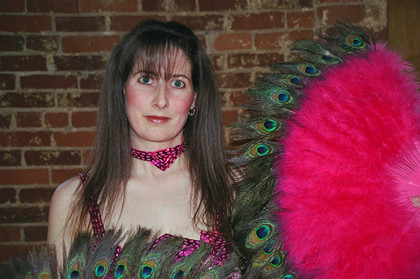 In 1998, married and with a child of her own, Amy decided to return to dancing. Her search for an adult tap class brought her to Maple Run, an Appalachian clogging troupe. The troupe's evolution into Small Planet Dancers, a Global Dance troupe, found Amy eager and able to expand into new dance forms.
Although originally shy and nervous at the prospect of performing in public, Amy has grown to enjoy the Small Planet Dancers' numerous performances. She finds that learning the history of each dance and the traditional costumes greatly enhances the performance experience.
Amy also enjoys the friendship and camaraderie of the troupe. To the many memorable moments that have already occurred, Amy hopes to add even more. It's fun to go by a place where the troupe has performed and say "I danced there and we had a ball."