Ballroom Dancing: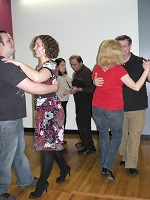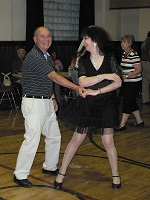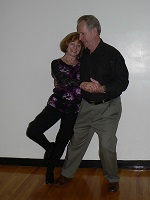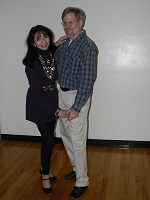 Small Planet Dancers offers an 8-week foundation course for beginners and those who would like to improve their ballroom dancing technique. Couples only please, but no experience is necessary.
Two instructors will be present for each class, enabling students to witness the correct technique for both the leader and follower roles. Each one hour class is roughly split between the two dance styles taught that session. The two dance styles taught during a sesson are selected (with previous student input) from the list below:
American Tango
ChaCha
Foxtrot
Hustle
Merengue
Nightclub Two-Step
Polka
Rumba
Salsa
Samba
East or West Coast Swing
Waltz
A syllabus will be distributed on the first night of each session. Each week, one new step (selected from a list of options included on the syllabus) will be taught in each dance. Good "lead and follow technique" will be taught for each step. To improve retention, each class will include a review of steps learned during prior weeks of the session.

Classes are held on FRIDAYS from 7:00 until 8:00 PM, at 16 Union Ave, Suite 3-K, Westfield, MA, 01085. $60 per person covers a single class for the 8 week session. For $100 you may attend unlimited Tuesday, Wednesday and Friday classes during the 8 week session. There is plenty of free parking beside the building.
REGULAR eight week sessions begin:
Rumba and Hustle - Friday, March 23, 2018
Foxtrot and Swing - Friday, May 25, 2018
Summer Sampler (6 weeks) - Friday, July 20, 2018
Come and check us out! The first week of each session (March 23, May 25 and July 20) may be attended FREE of charge or commitment.
Gift Certificates Available!
As an added benefit, the instructors (Josephine and Jeff) periodically organize group outings to local events which they believe will offer their students an opportunity to practice their dance skills in a constructive social environment.