Ellen Jordan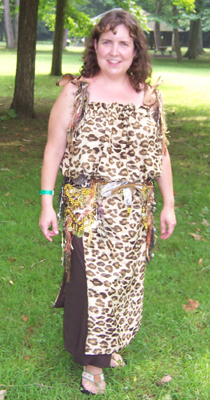 Ellen is drawn to an array of creative outlets. She has been painting for over ten years and has focused on folk art painting. She has also done a wide variety of interior decorative painting from simple faux finishes to full room murals. She plays the piano and is a middle school teacher by day.
Ellen is described by her friends and family as, "always on the move," and she never sits still for long. When she saw the Small Planet Dancers perform several years ago, she was mesmerized and became an instant fan. It rekindled her love of dance from childhood and she vowed to someday join an adult dance troupe.
In the fall of 2007, Ellen happened upon an information table for Small Planet Dancers and signed up for her first belly dancing class. Before long, she was taking classes a few nights per week and joined the global dance troupe as well. She says that it has revolutionized her life and she is doing things that she never dreamed she'd have the opportunity, confidence or skill to do.
The thing that Ellen loves most is, "the other troupe members are so supportive and non-threatening. Dancing with Small Planet Dancers is a place where I feel safe to take risks without judgment." This aspect of Small Planet Dancers is especially important to her because she also strives to make sure her classroom environment has the same attributes.
Ellen incorporates multiculturalism into her day-to-day teaching as much as possible as well as in the raising of her son. A dance troupe that focuses on multicultural dancing and education was a perfect fit for her life. She is looking forward to a long life with Small Planet Dancers.
On occasion, Ellen handles the sound and photography needs of the troupe during performances.