Suzanne Wells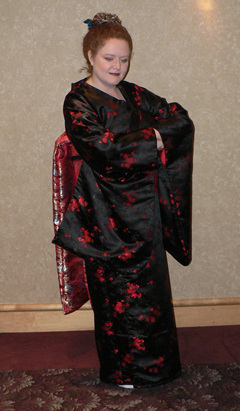 Suzanne has fought an Egyptian battle, been arrested in a 1920's speak-easy, danced with fairies in the moonlight, and has floated in and out of dreams. These are some of the many wonderful things Suzanne has experienced since joining the troupe, Small Planet Dancers. In addition, Small Planet Dancers has offered Suzanne two great treasures: wonderful friendships with very unique individuals who share her love of dancing and diversity, as well as, an opportunity to understand the histories and traditions of various cultures.
Suzanne began dancing with the troupe in September of 2003. She agreed to join a friend in a belly dancing class, not realizing she was actually joining a performance troupe. Surprise! Three weeks later, her friend backed out. However, Suzanne continued dancing in an attempt to overcome her shyness. Five months later she debuted with the Small Planet Dancers. Suzanne still gets nervous when she performs, but somehow, she manages to enjoy the experience.
In the real world, Suzanne is a full-time paralegal. While dancing is her favorite creative outlet, she also enjoys spending time with her family and friends, crocheting, reading and traveling.