Christine Blacke
As a child, Christine had never taken dance lessons, wanted a pony, or planned her own wedding. Instead, she managed to break traditional gender stereotypes by playing guitar in a heavy metal band, training in Northern Shaolin Kung Fu, and running 5K obstacle courses through mud and fire. It wasn't until her affinity for all things Egyptian and Middle Eastern led her to take belly dance lessons with Jo Sarnelli that Christine began to embrace her feminine side. "I was pretty nervous at first but, when the first strains of music started to play, I knew I was in my element."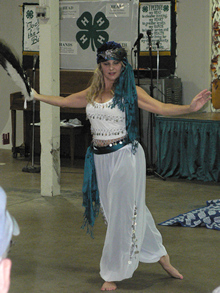 In January 2011, Christine joined Small Planet Dancers and became exposed to even more styles of dance, including Celtic, quadrilles, swing and tango. A few months later she performed her first show with the troupe and has since been fortunate enough to perform a variety of dances at places such as the Springfield Armory Grounds, the Big E, and the Mass Mutual Center.
What she loves most about being in Small Planet Dancers is the camaraderie she shares with the other members. Rehearsals are always friendly, creative, and non-judgmental, the perfect place to stretch outside one's comfort zone. And because each person brings his or her own strengths and abilities, the possibilities for new dances are endless. "I can't imagine spending my Sunday afternoons anywhere else."
When she's not dancing, Christine can be found writing YA mystery/suspense novels and action/adventure screenplays, playing MMORPGs, and studying for her initial teaching license in secondary English education.