Josephine Sarnelli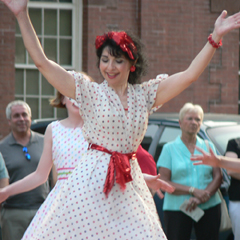 Josephine Sarnelli began to study dance as an adult with Dolly Hicks Donovan and performed with her dance troupe for 17 years. Jo is trained in character dancing, classical ballet, jazz, tap, and various forms of international dance. In addition, she has taken classes across the country with instructors in various specialties.
Both a performer and choreographer, Jo established Small Planet Dancers (previously called Maple Run) in 1986. This performing dance group of men and women entertains throughout Massachusetts at fairs, festivals, fundraisers, community events and private functions. In addition to Appalachian clogging, Celtic, Middle Eastern, and Cajun, Small Planet Dancers' repertoire includes, but is not limited to, French Can Can, Hungarian Gypsy, Polish Mazurka, Tarantella, and Canadian step dances.
A Certified Public Accountant by day, Jo has a passion for performing and teaching dance to others. She instructs dance classes year round and has conducted workshops throughout the New England states.