Wind, Sand & Desert Feet: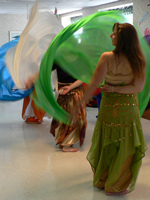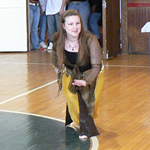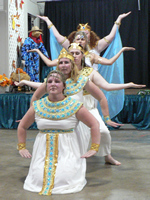 Wind, Sand & Desert Feet is Small Planet Dancers' Middle Eastern, or belly dance, troupe. Each class session focuses on one or two unique choreographies taken from the wide variety of belly dance styles utilized by choreographer / instructor Jo Sarnelli. Her inspiration arises from diverse cultures spanning three continents:
From the Gypsies of Eastern Europe, to the tribal dances of South Africa and from the Bollywood and classical styles of India to the fusion of flamenco and middle eastern influences that define Morocco.
A listing of Jo Sarnelli's recent belly dance choreographies can be found below.
Classes may be taken strictly for exercise, or as a means to develop the skills necessary for participation in troupe performances. Classes are available in Westfield and West Springfield, MA. Please see our classes page for details. Jo invites all women to participate. Prior dance experience is not required and public performance is an option.
For those wishing to schedule a troupe performance, please see our contact page. Wind Sand & Desert Feet performs the following Middle Eastern and African dances:
A New Dawn
Aladdin's Lamp
Dance for the King (Egyptian Double Fan Dance)
Dreaming of Veils
Gaia, Earth Goddess
Hips Don't Lie (Indian, Bollywood-style Dance)
Leila (Gypsy Zill Dance)
Leysh Nat'Arak (Modern Egyptian)
Lost Caravan
Marabou Cabaret (Double Fan Dance)
Marco Polo (Indian Veil Dance)
Out of Africa (Tribal)
Persian Peris (Persian Veil Dance)
Ramza (Veil Dance)
Talibek (Egyptian Cane Dance)
The Ascent of Isis (Pharonic)
The Fiddler and the Wood Nymphs (Fusion)
The Spanish Gentleman (Fusion)
Tribute to Erte
With Eyes Like Yours (Gypsy Dance)